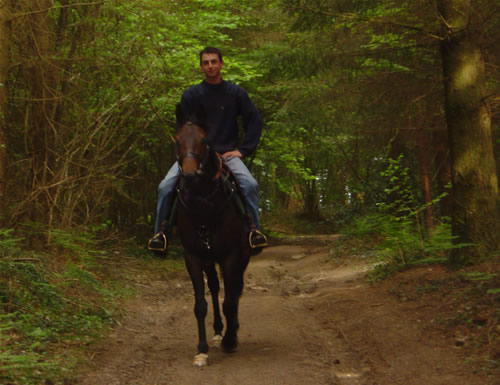 I grew in Normandy in the middle of the french area of the horses.
I really started to ride a horse at the age of 10 years at the "Cravache d'argentan" (61). Yves Legout, my instructor, taught me traditional riding during approximately 7 years.
The horse immediately became my principal motivation. My first fillie was a true revelation for me, I was 17 years old and a friend and me had bought this reformed of flat racing of approximately 10 years. Thanks to her I discovered autonomy with horse and the horsemanship of outside, I also discovered personal engagement that asked a horse oneself: time, work, and money. And finally I discovered what it was to see dying his companion…
Ensured of my passion for équidés I decided to pass an agricultural diploma of technician in equine breeding, with the IREO of Mauvaisville (61). Motivation was indispensable, not for the studies but for the training periods: Get up before the sun, at less 1 weekends on /,it wasn't holidays neither for the horses, nor for the guys. One is put in the mood immediately, the cold, the schedules (one is far from the 35 H/week), it was physical , useless to lie to yourself, if you want to make of it your job, it is necessary to learn how to work hard, because the horses it is not an easy work, and especially in racing. I had the chance, to work with Emmanuel Leclerc in preparation of the yearlings. It was not whole rest certainly (one is far from work in riding school!), but I really learned the job with horses which were not always easy, I also learned how to be a little more one man: to make my place among the horses but also among people.
After this school, I passed my guide of equestrian tourism, I were really interested by the excursion and the TREC and I wanted to make share my passion.
Thierry Greusard, learns to me yhe most one has to know about trekking, I worked besides several times at his place with Rotourelle (61).
André Soudant supplemented my knowledge in harness, his family and him lodged me in their farm in Corrèze: an area full with charm, forests and lakes, always calm, a framework dreamed to practise the horsemanship of outside.
In fact it is a banal accident of pony of a friend who brought me to the gallop racing. Julien Mérienne, today trainer, had simply broken the wrist, thus it called me to help him to the training of his horses, as a help that was the thunderbolt: Between the character of these horses, and these feelings unknown and graying of Canters! Wouaw, I was not leaving this world until the exercise of dentistry.
As soon as my friend was restored, I left direct to England as stable-lad-jockey for Gerald Bulter.
On my return in Normandy, I was selected like person in charge for stud farm, with the stud farm of the "Hars de la Verrerie" (pertaining at the origin Elie de Brignac). I was in charge of the preparation of the yearlings for Deauville and Newmarket sale's with horses of great origins in particular Whipper. In addition to the breeding, I was in load of the care and of the "holidays" of certain horses like Nashwan Rose or Cyrlight celebrates it.
Decided well since always managing one day my own stable, I had to give up it for a trouble at my knee. I thus undertook to learn the jobfrom equine dentist, it was not a choice randomly, in the best stables I always worked with equine dentists, and as a person in charge I knew the importance of the maintenance of the dental table. That it is of race, jumping, breeding, of sales, that which wants horses zt the top must take all the elements in consideration : food, blacksmith, vet, osteopathy and the dentist. Convinced of the importance of this actor in this process of conditioning of the horse, his drive for best performances and profitability I chose to make my job of it, and I hope to come one day to join your staff on your stable.